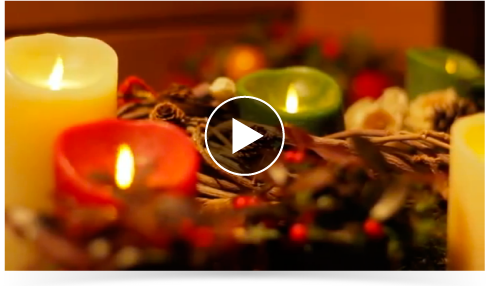 LED candles with the flame flickers and sways just like real candles
This LED candle was developed for the purpose of creating a special atmosphere to be used at theme parks, churches, museums, memorial halls or windows. It's not just an ordinary blinker light but has adopted a unique (patented*) technology to make the candle flame look just like a real one. This will help you to enjoy your quality time.
*US patented #8070319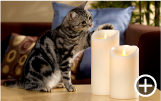 Safety is a beautiful thing.
Our candles safely go where traditional flame candles can't. Perfect for homes with curious kids, pets and places like bookshelves and bedrooms. (No more soot on the walls or ceiling, either.) You get peace of mind and a whole new world of decorating possibilities.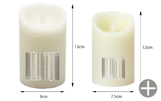 Energy efficient and space-saving
With the new model, they have succeeded in gaining 2.4 times more energy-saving, and use two 'C' batteries instead of 'D' batteries while maintaining 500 hours lighting time.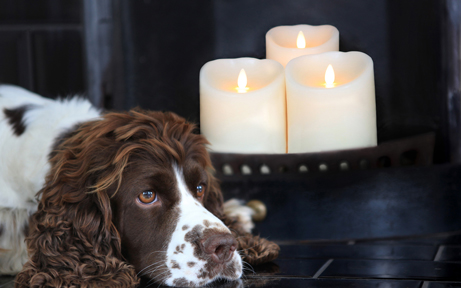 Pillar candles with the authentic scented wax
LUMINARA's popular model. Our antique surface finished by hand on the scented authentic wax allows for a realistic texture. You can enjoy not only the real flame-effect but also the texture in each color and scent.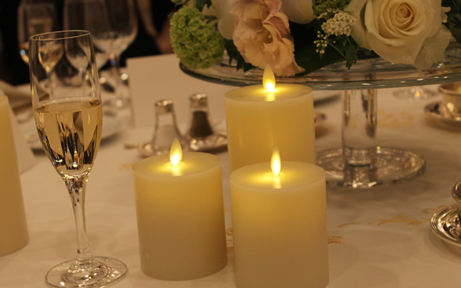 Flat top model allows you enjoy the real flame-effect from any angle
Flat top model. Simple and geometrical design with glossy surface shows the beauty of the candle. With unscented feature, you get peace of mind to use it on various kitchens and dining environment.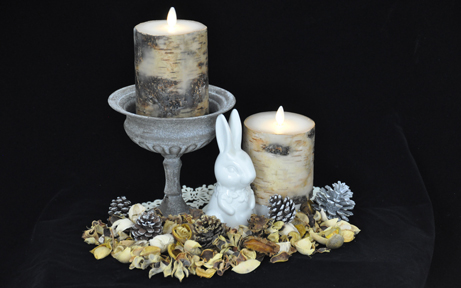 Botanical candles decorated with a colorful nature scene
Embedded botanical series add an accent to the conventional LUMINARA range. The Birch Wood candle is wrapped in birch bark and its tranquil design delivers an everlasting summer resort-like feeling in warm seasons and bring warmth in autumn and winter.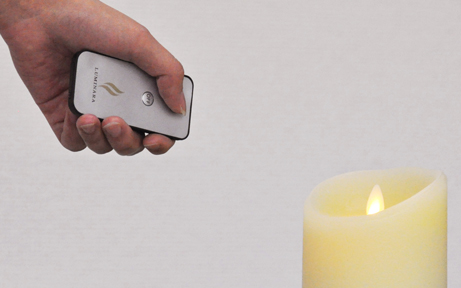 Use the remote control and easily enjoy the candle
When you leave the LUMINARA's main power switch ON, you can turn all the candles ON or OFF at once using the remote. Place several candles in your room and enjoy a fantastical candlelit night.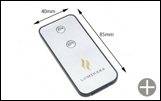 Simple remote control function
The remote control can be operated about 5 to 6 meters away (2 to 3m depending on the angle). ON and OFF function only. Simple and easy to use.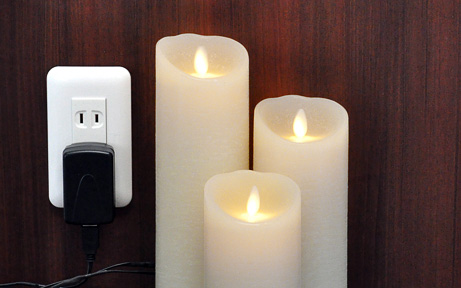 AC powered Pigtail candles never require battery replacement
AC powered LUMINARA has been launched, while maintaining the battery powered LUMINARA's attractiveness. Using commercially available USB hub allows you to use multiple LUMINARA with just one power supply and so you can create various scenes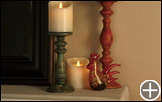 Have all the LUMINARA's attractiveness
Have all the LUMINARA's attractiveness such as, Real flame-effect, Texture of authentic wax, Timer function and Remote control!